Real Estate
NAR chief economist: 'The Fed made a mistake'
At the Realtors Legislative Meetings' Residential Economic Issues and Trends Forum, Lawrence Yun predicted total home sales would bottom out this year before ticking up in 2024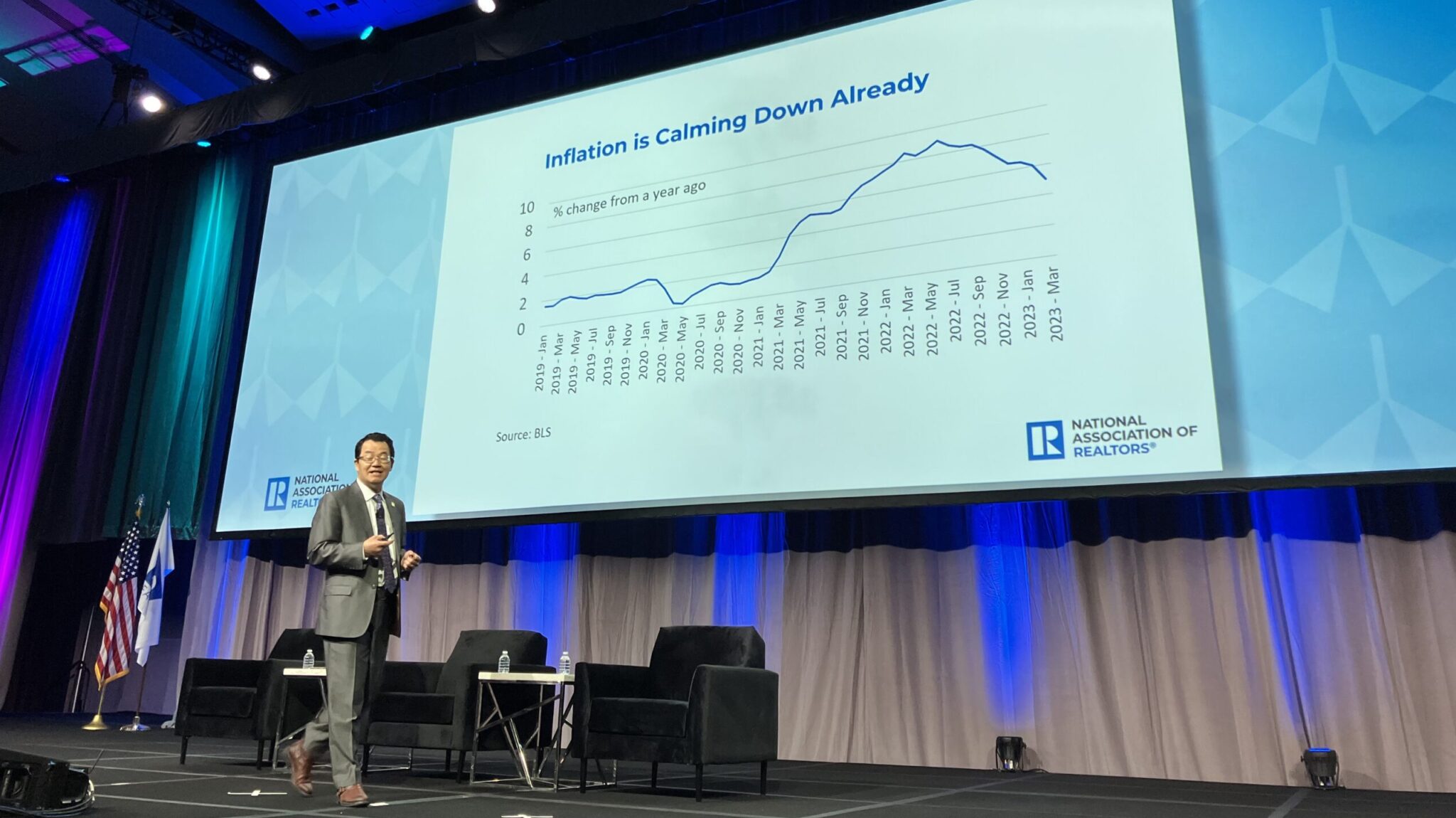 NAR Chief Economist Lawrence Yun at the Realtors Legislative Meetings' Residential Economic Issues and Trends Forum on May 9, 2023
Andrea V. Brambila
Today 2:01 P.M.
National Association of Realtors Chief Economist Lawrence Yun started off his much-anticipated presentation on housing market trends Tuesday morning with a dig at the Federal Reserve for its latest interest rate increase aiming to curb inflation.
"They should not have done that," Yun told attendees of the Residential Economic Issues and Trends Forum at the Realtors Legislative Meetings, NAR's midyear conference in Washington, D.C.
"The latest figure is that inflation is at 5 percent — not yet 2 percent, but moving in the right direction," especially compared to a 9 percent peak last summer, he added.
Rent is one of the biggest drivers of inflation and that 5 percent inflation is coming at a time when rental rates are still accelerating — but not for much longer, according to Yun. Rents will come down because of "very, very robust" apartment construction, which is at a 40-year high.
"Therefore in my view the Fed made a mistake," Yun said.
Yun noted that existing-home sales are currently below their pre-COVID rates, but may be stabilizing.
"We have to stop the bleeding before the improvement can take place," Yun said.
On the other hand, new-home sales are back to their pre-COVID levels, according to Yun.
He attributed the difference to inventory: While existing homes on the market are about 40 percent below what they were in 2019, new-home inventory is higher than it has been for years.
The lack of existing-home inventory means that there's no home-price collapse coming, according to Yun. Sixty percent of listings currently sell within a month and 28 percent are attracting multiple offers, he said.
"Seventy percent of the country is seeing positive gains [in home prices], 30 percent negative," Yun added.
Demographics will continue to drive housing demand as the population grows and life events trigger home sales, according to Yun.
While he made jokes throughout his presentation, his loudest laugh line came when he predicted that when divorce data came out for 2022, it would be lower than in 2021.
"Why? You hate your spouse, but you realize you love your 3 percent mortgage rate," he said, prompting guffaws from the audience.
He predicted that total home sales would bottom this year before ticking up next year as mortgage rates decline and job growth continues.
Robert Dietz, chief economist for the National Association of Home Builders (NAHB), also spoke at the forum and, not surprisingly, stressed the need to build more housing units to both boost inventory and reduce inflation, the latter of which he said could only be addressed by building "attainable affordable housing."
According to Dietz, the primary obstacles to homebuilding include the cost of building materials, which are still hindered by supply chain issues, such as tariffs on Canadian lumber, regulations that can add up to $200,000 to the cost of a home in a high-cost market like California and a labor shortage of about 100,000 workers.
"The long-term labor shortage in the industry is going to remain with us," Dietz said.
He said the country would need to build more than 1.1 million single-family homes a year to meaningfully reduce the inventory shortage, and the NAHB doesn't expect that figure to rise above 1 million until 2025.
The Harris County market is still going strong. We are continuing to see low inventory and multiple offers on homes priced correctly.